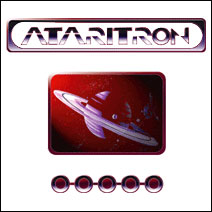 Ataritron is: Ryan Egan
All Songs written and performed by Ataritron.
Vocals on "Arani" performed and written by Heather Egan.
Bass on "Dream Pod (live)" performed and written by Rob Campbell.
Track List:
1. Hyperspace
2. Lost Galaxy
3. Echo Shell
4. Lunar 505
5. Arani
6. Jetbike PT1
7. Planetary DJ
8. Dream Pod (live)
9. A Star's Lament
Artists Comments: This whole project started out as a jam with my friend Rob on bass and myself on keys. In those first sessions we recorded a bunch of live takes of the song that eventually became Dream Pod. Soon after Rob left the band for other pursuits, but I continued to plug forward using tons of retro synths, keyboards and drum machines including: Sequencial Circuits Six Trak, Yamaha DX7 and Roland TR-505. I also played around with adding a few guitar tracks with my rare Ibanez Les Paul. I originally wanted to create retro-electronic music which was heavily influenced by early arcade games and was not overly repetitive. This music makes serious demands to the listener's ear and reminds them to take an active part in exploring the layers of sound. I am pleased with the dynamic of this work and hope you will find yourself lost in a unique listening experience.


If you download the album, please consider giving a donation in any amount.
Thank you for your support!